Farmers Market
The City is excited to announce that we will be partnering with CHRPD this summer to host the Farmer's Market which will begin at 5:30 pm and end at 8:30 pm each Wednesday from June 14, 2017, through August 16, 2017.
This year, the Farmer's Market will be held downtown on Fifth Street between Elm and Durian (and possibly on Durian between Fifth and Sixth if we have enough vendors).
Road closures will begin at 1:00 pm to allow for vendor set up.
Please join us in this collaborative effort to provide a great event to our citizens,
Interested vendors should still contact CHRPD for registration.
See you this summer!
Coalinga Walmart Meeting
I am sure many of you are eagerly awaiting an update on the City's meeting with Walmart. Economic Development Coordinator Edith Sanchez met with Walmart representatives Monday afternoon in Las Vegas. Representatives stated that they are aware of the #coalingawalmart campaign, they are watching it closely, they are interested and they will follow up with Edith in a few weeks.
Interested in opening a business in Coalinga?
Interested in opening a business in Coalinga? Call Economic Development Coordinator Edith Sanchez to ask about incentives such as waived business license fees, the New Employment Opportunities Employment Subsidy Program, the New Employment Credit, the Work Opportunity Tax Credit, the Employment Training Panel, the Manufacturing Equipment Sales and Use Tax Exemption, the Research and Development Credit, the Industrial Development Bond Financing Program, the California Competes Tax Credit, the PG&E Economic Development Rate, the Fresno County Fee Deferral Program, the Recycling Market Development Zone, the Foreign Trade Zone, and the Fresno Energy Watch. Edith can be reached at (559) 935-1533 ext 114 or via email at esanchez@coalinga.com.
Advertise your business on the Coalinga Community Pride Sign
Interested in advertising your business on the Coalinga Community Pride Sign? Call or email Economic Development Coordinator Edith Sanchez at (559) 935-1533 ext 114 or esanchez@coalinga.com
ADA Complaint Form
PDF Files:

Water Conservation Tracking Through September 30, 2016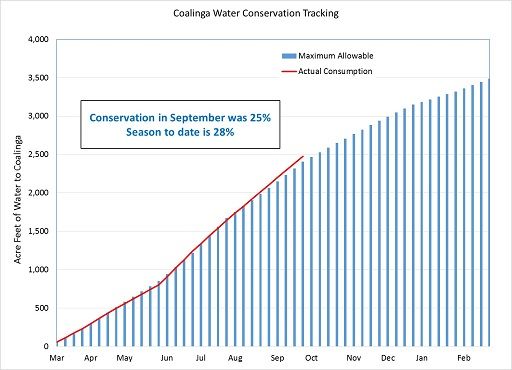 Welcome to Coalinga!
Coalinga is a full service community with a high quality of life, low crime rates, and quality housing. Coalinga also has quality schools, a library, a museum, and many recreational facilities. Key community events include the Annual Horned Toad Derby, Annual 4th of July Fireworks Display, and Wham-O-Bass Hot Air Balloon Festival. Coalinga also serves as the regional retail center of western Fresno County with a K-Mart, Rite-Aid, Walgreens, and two major grocery stores.
Coalinga is the home of West Hills College. West Hills College (with satellite campuses at Firebaugh and Lemoore) continues to experience significant growth, providing college level course-work in a variety of disciplines. Enrollment at West Hills College has increased from 2,715 students in the fall of 1994, to 3,886 students in the fall of 1999. West Hills College is also working with Fresno State University to develop cooperative programs which would allow West Hills Students to take courses offered by Fresno State. West Hills fields teams in all major sports, and an intercollegiate rodeo team which competes nationally.
City Hall Closed Friday's Effective June 29, 2015 – Extending Hours Monday-Thursday
As part of the 2015/2016 Budget City Hall will be closed on Friday's and will be extending its hours it is available to the public from 7:30AM – 5:30PM Monday through Thursday. This change goes into effect on June 29, 2015. Should you have any questions regarding this change please contact City Hall at 559-935-1533.
Coalinga Returns to Stage 1 Watering 4-20-17
Sec. 6-4C.06. - Stage I Prohibitions and restrictions—Standard conservation alert.
The following restrictions shall be applicable throughout the year unless the City Council determines that an increased conservation effort shall be implemented (stage 2 or 3):
(a)There shall be no hose washing of sidewalks, walkways, driveways, parking areas, patios, porches or verandas.
(b)No water shall be used to clean, fill, operate or maintain levels in decorative fountains unless such water is part of a recirculation system.
(c)No water customer shall permit water to leak on his or her premises. Such leak shall be repaired in a timely manner after written notification by the City, but in no case in excess of seventy-two (72) hours after notification.
(d)Designated times and days of irrigation:
(1)No water customer shall sprinkle, water, or irrigate any shrubbery, trees, lawns, grass, groundcovers, plants, vines, gardens, vegetables, flowers, or any other landscaped or vegetated areas between the hours of 10:00 a.m. and 6:00 p.m. This provision shall not apply to equestrian and livestock businesses, dairies, nurseries, golf courses, or other water-dependent industries.
(2)Residential addresses ending in an even number may use water on Tuesday, Friday, and Sunday. Residential addresses ending in an odd numbers and nonresidential (irrespective of address) may use water on Monday, Wednesday and Saturday.
(3)No irrigation shall occur on Thursdays.
(4)The use of a handheld hose with a shut-off valve shall be permitted at any time.
(e)The use of water from fire hydrants shall be limited to fire fighting and related activities necessary to maintain the public health, safety and welfare. An exception may be made for construction use through a proper City-designated meter where recycled water is not available.
Water Crisis 2015
Stage 2 – Key Water Conservation Measures
The following water conservation measures are needed to make the most of our watersupply, which has been reduced by 28% below 2013 levels because of the drought. More than 70% of our annual water use takes place outside the home.
The measures below will help us makethe most of our precious water supply this year
1. No water hose washing of sidewalks, walkways, driveways, parking areas, patios, porches or verandas.
2. Watering of lawns and gardens are restricted to the following schedule:
a. No outdoor watering on Sunday, Monday and Thursday.
b. No outdoor watering between 9:00 a.m. and 6:00 p.m Sunday - Saturday.
c. Even addresses outdoor watering is allowed on Tuesday and Friday.
d. Odd addresses and non-residential customers (irrespective of addressoutdoor watering is allowed on Wednesday and Saturday.
3. Emptying your swimming pool requires permission and will only be granted one time during a 24-month period.
4. The use of a water hose for outdoor watering with a shut-off valve shall be permitted at any time.
5. Failure to follow these measures and the other measures in the City's Water Conservation Ordinance will lead to an initial warning and then monetary fine and up to shutting off your water service.
PLEASE Make Every Drop Count!